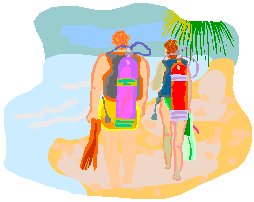 Located off the eastern coast of Florida, the 180,000-acre Biscayne National Park is less than an hour's drive from Miami. The park originally was established as a national monument in 1968. It became a national park in 1980, specifically to protect the incredible diversity of mammals, birds, fish, and plants.
Park Service Information Office:
Biscayne National Park
P.O. Box 1369
Homestead, FL 33090
Email: Biscayne National Park

More than 95 percent of the park is underwater and includes mangrove swamps, coral reefs, and the waters of Biscayne Bay. The remaining 5 percent includes 44 islands that form an 18 nautical mile north-south chain. In this watery paradise, one can find more than 200 varieties of fish, which inhabit the coral reefs. Starfish, sponges, soft corals, and other marine plants and animals live and thrive in Biscayne Bay.

Biscayne National Park is best explored with snorkels or scuba gear. For those not quite so adventurous, glass-bottom boat trips and canoe rentals are available.